Our first meeting of the year was held on January 8th. If you weren't able to join us or just need a reminder of all that was covered, here you go!
2023 Board
President: Nancy Littlefield
VP of Activities: Janine Fulkerson
VP of Operations: Michelle Hodgson
Treasurer: Candy Flory Barnes
Secretary: Dori Conboy
Membership Renewals!
If you have not renewed your membership for 2023, please do so as soon as you can. Be sure you return both your payment of $50 and your registration form so that we can complete your membership renewal properly with the MQG. Please also take a few minutes and provide us with your feedback so that the board can help make this guild the best it can be! Janine will be collating the results of the inputs, and will present them at our February meeting.
Activities
Holiday Party – new venue needed
After several years at the Alta Vista Botanical Gardens in Vista, we are in need of a new venue for our December party. If you know of a possible location or have an idea, please let the board know as we want to secure something sooner than later. Thank you!
Scrappy Quilts – February meeting
Hadley Mendoza Miklos will be speaking with us at our February meeting about turning almost any pattern into a 'scrappy' quilt. She will be bringing some of her examples. Don't miss this!
January 22nd Sew-in – Lanyards with Hadley Mendoza Miklos
Hadley will be leading us through a lanyard making mini workshop on Sunday, January 22 during our sew-in time. We will have hardware for your use but we recommend bringing your favorite scraps. This should be fun! Remember to bring your sewing machine too! The sew-in runs from 11-4 at Quilt in a Day.
June – Postcard swap
Janine our Activities VP will provide more details as we get closer, but start thinking about what your postcard quilt might be like. So many possibilities!
Monthly Member Spotlight
We are still seeking volunteers for 2023. Currently we have presenters for March and April, but other months are still open. We can accommodate all types of presentations and you are always welcome to share the spotlight with a friend! Please talk to Janine or email the board if you are interested in signing up for any spots this year!
January's Member Spotlight featured our longtime member Susan Kephart! We so enjoyed hearing her quilting story and seeing her spectacular quilts.
---
Charity
Upcoming for 2023
The charity committee met recently and decided we are continuing the support for Ronald McDonald House, Just in Time for Foster Youth's My First Home program, and the Moores Cancer Center. We do not currently have a year-long project set up.
Ronald McDonald House (January – April)
Ronald McDonald House Charities of San Diego provides a "home-away-from-home" for families with children being treated for serious, often life-threatening conditions at local hospitals. We will be supporting them by donating quilts for their Welcome Bags that every family receives as well as donating quilts for other needs as they arise at the House. We will be accepting all sizes of quilts for this trimester's project.
Group Quilt: Black and White/Solid Plus
For our group quilts this trimester, we will be making these nine patch blocks using solids and black and white prints. If you'd like to participate, you will have the option of making blocks from your stash or to pick up a kit at a meeting (or mailed to you upon request). Block kits or those sewn from your stash are due back by the March guild meeting.
Blocks are made up of:
4 – 3.5" solid squares (all the same color)
5 – 3.5" B/W squares (all same ground color, as shown in the photo)
Sew with 1⁄4" seam allowance, blocks should be 9.5" unfinished
Arrange squares in a nine patch with the solids in the corners and the B/W prints in the center plus. Sew and press as desired.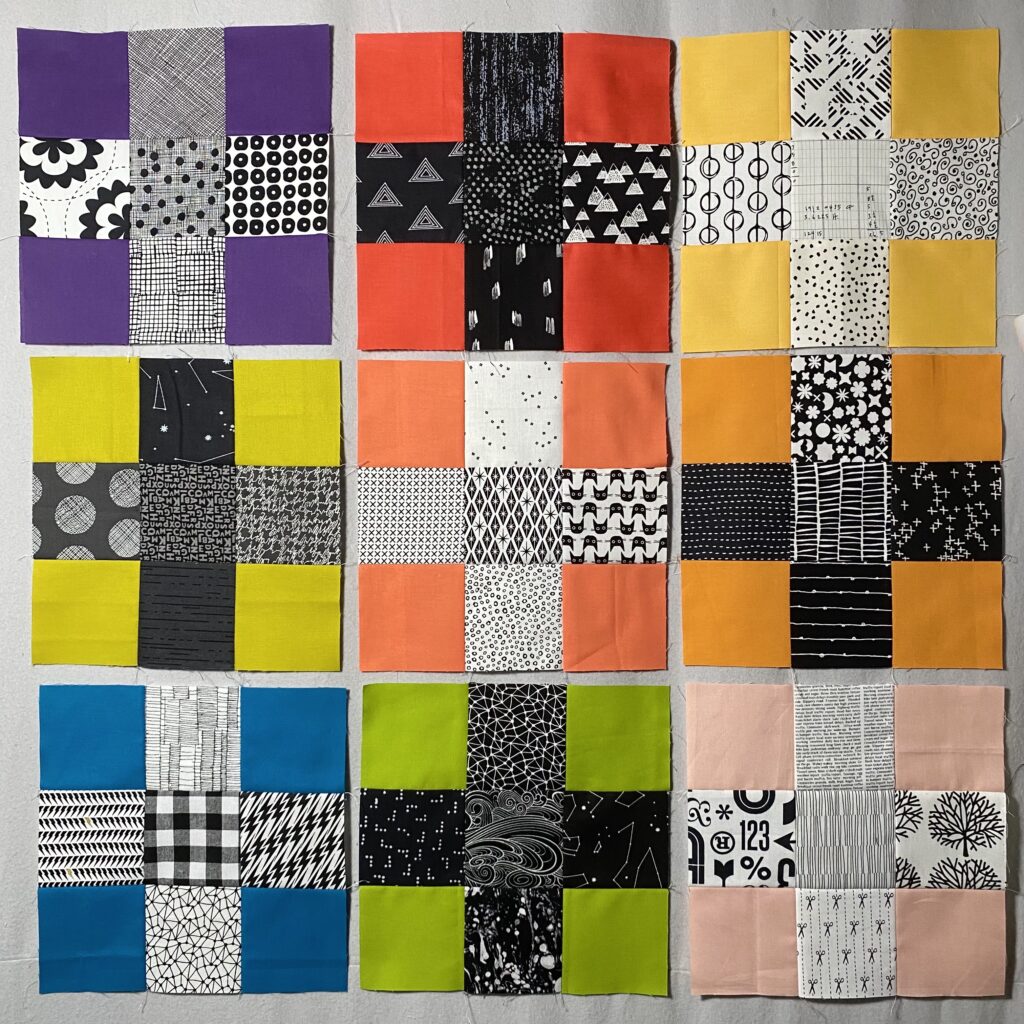 QuiltCon Community Outreach Challenge Project: Color Shift
Our quilt is now complete and has been quilted by member Judy LaVine. Moonglow will be on display at QuiltCon.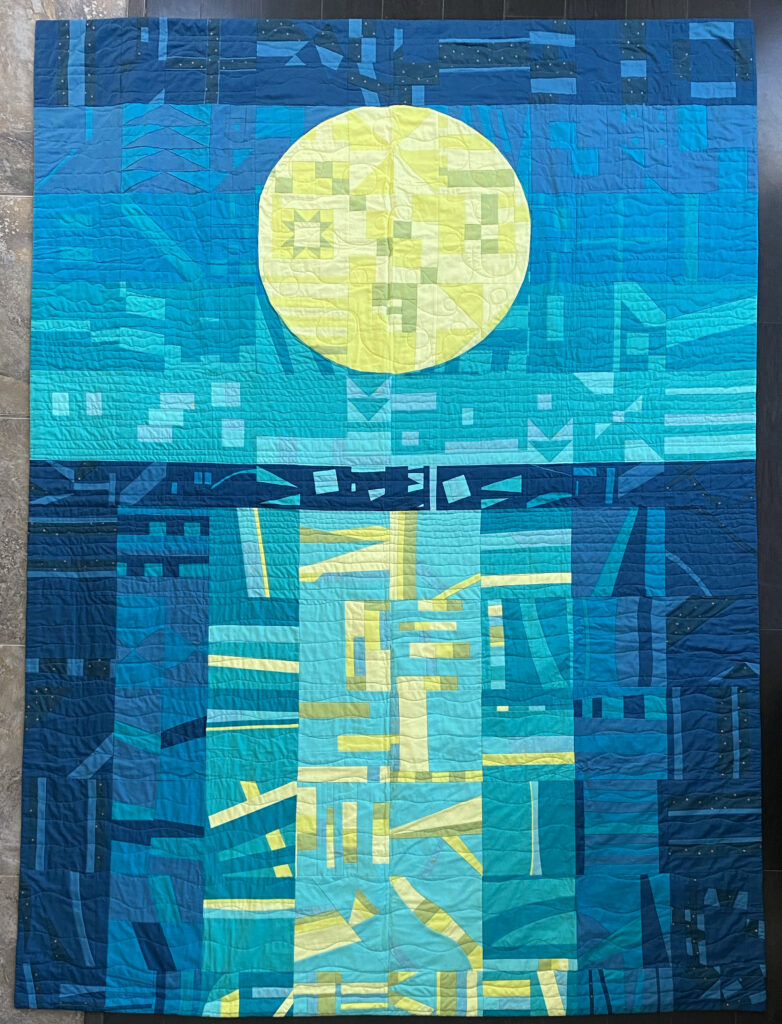 Year-long Women's Resource Center Project
Women's Resource Center – The call was put out for 33 bed or large size throw quilts to cover all 33 beds of the center's emergency shelter, and our final number supplied was 46!!!! We cannot thank everyone enough who participated in this drive in all capacities. We could not have achieved this without you! Look for a wrap up post about this to be shared soon!
Tops available for quilting
The guild has a backlog of donated tops that are in need of quilters to turn them into finished quilts. Again, quilting does not need to be fancy and this is a great way to practice free motion quilting or getting used to a new long arm. Quilt tops of all sizes are available and we can provide batting, backing fabric, and/or binding fabric upon request. If you would like to help, please email the sdmqgcharity gmail or talk to Kristyn at a meeting.
Special Charity opportunity – Gently Hugged
Our contact and point person for this charity is Shelly Hoffman, [email protected]
This effort is providing blankets and quilts for babies in need via social workers and nurses. This organization hands out about 60 care packages a month.
Dimensions maximum – 45" x 30"
No religious prints, sports prints, holidays, etc.
Again, please work this through Shelly Hoffman directly, and not through Kristyn.
---
QuiltCon 2023
QuiltCon is being held in Atlanta, GA on February 23-26, 2023. Kristyn (who is the QuiltCon volunteer manager) gave us some information about the volunteer opportunities available to all. Shifts are as little as 2 hours, but you get some big perks if you can be a Super Volunteer (16 hours over the course of the entire event). Sign up here!
Coming Guild Events
Next Sew-In: Sunday, January 22nd at Quilt in a Day – 11am-4pm
Next Meeting: Sunday, February 12th at 12:00 pm at Quilt in a Day (with Zoom viewing option). Stay after the meeting for sew-in time. No sign-ups required. 
---
Written By: Dori Conboy
Posted By: Kristyn Jansen