Bow Tie Blocks
For our first trimester, we will be taking quilt donations of all sizes for the Ronald McDonald House. As part of this trimester's project, we will also be assembling group quilts made from blocks made by guild members. We have quilt block kits available for members – we will mail them out to you and then you will send them back once completed.
Our block for this trimester's project is a Bow Tie Block, which are based on a tutorial by Cluck Cluck Sew. Each kit is made up of two blocks – one with a solid background and one with a print background.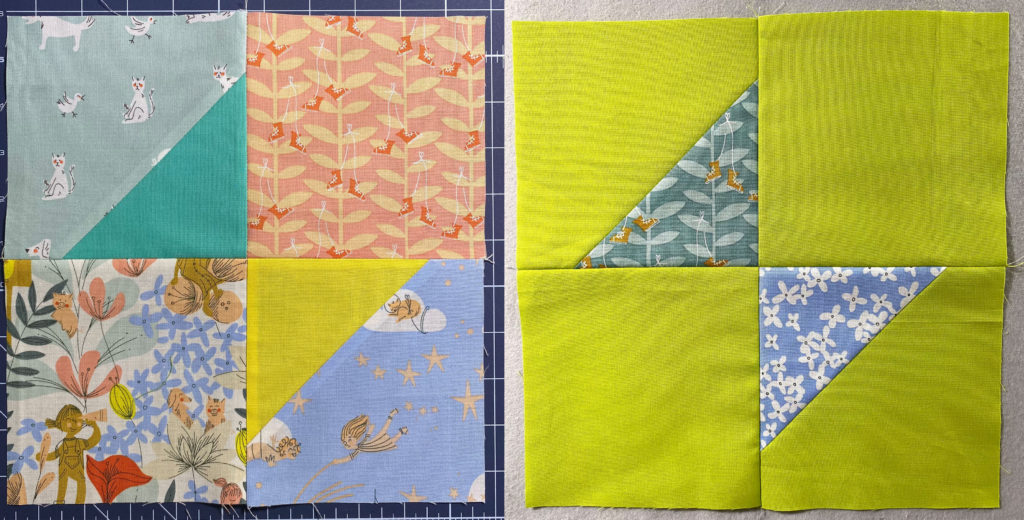 Instructions for the blocks will be included in the kits. Blocks are due back to Kristyn by the March 14th guild meeting. We still have about 10 block kits left – if you're interested in sewing some blocks, please email Kristyn at sdmqgcharity@gmail.com with your name and number of kits.
---
Potholder Challenge
We sent a small donation of potholders to the Holiday Baskets program at the end of the year and they were thrilled to receive them and asked if we would send more for the upcoming year.
We're challenging you to make a potholder to donate to this program – we have purchased the InsulBright batting that is needed for the potholders and can provide that for you. This will be a ongoing project for this year, as the potholders will not be donated until the end of the year, so join in at any point in the year!
We are asking for potholders that are around 9″ or so – we will be sending out 10″ squares of InsulBright material. This project is perfect for any orphan blocks that you might have lying around!
Not sure how to make a potholder? We've got a couple helpful links and our own Sue Bouchard has put together a quick tutorial for you as well, which will be available below.
Top
InsulBright
Cotton Batting (100%)
Back
Note: Please make sure to use natural fibers (cotton/linen) as polyester will melt.
Potholder Resources:
Patchwork Rounded Corner Potholder
If you're interested in participating in this potholder challenge project and are in need of InsulBright, please email Kristyn at sdmqgcharity@gmail.com and include the amount of InsulBright squares you would like. Any other questions about this project can also be emailed to Kristyn.
---
Posted and Written by: Kristyn Jansen