Our last meeting of the year was held on November 13th. If you weren't able to join us or just need a reminder of all that was covered, here you go!
Elections!!
Elections are final! And we even had a member step up to fill the empty Secretary position. The 2023 board will be:
President: Nancy Littlefield
VP of Activities: Janine Fulkerson
VP of Operations: Michelle Hodgson
Treasurer: Candy Flory Barnes
Secretary: Dori Conboy (Thank you, Dori!!)
Membership Renewals
We will be launching our dues renewal campaign shortly. Be sure you return both your payment of $50 and your registration form so that we can complete your membership renewal properly with the MQG. Please also take a few minutes and provide us with your feedback so that the board can help make this guild the best it can be!
Activities
Holiday Party
Our 2022 holiday party will be held on December 4th at 11:30 at the Alta Vista Botanical Gardens in Vista. There will be lunch (please RSVP by November 30th), games and we will be drawing for this year's opportunity quilt! We will also be hosting a brown bag swap of a handmade item. If you make something, you take something! Please see the holiday party RSVP email for more details!
4th Quarter Challenge: Gifts!
We wrapped up our 4th quarter challenge with a select presentation of holiday gifts in the works, including a lovely zippered pouch made by Jill and tissue cozies made by Stephanie!
Special December Sew-in
Because of the holiday party and when Christmas falls this year, our last sew-in of the year will take place during our regular meeting time on December 11 from 11-4 at Quilt in a Day. It's a perfect time to finish up all of your last minute gifts! No sign-ups required. We look forward to seeing you there!
Looking Ahead to 2023
Coming events include a lanyard sew-along on January 22nd and a scrappy quilt breakout session on February 12th. More details to come.
Monthly Member Spotlight
We are currently seeking volunteers for 2023. Remember, you can make this presentation work for you! We can accommodate all types of presentations and you are always welcome to share the spotlight with a friend! Please talk to Janine or email the board if you are interested in signing up for any spots next year!
November's Member Spotlight featured our new Secretary, Dori! We enjoyed seeing the evolution of this engineer turned quilter and her spectacular quilts.
Charity
Charity Planning Meeting
The charity committee met recently and decided to continue to support the three quarterly focused organizations we are supporting this year (Ronald McDonal House, Just in Time for Foster Youth's My First Home program, and the Moores Cancer Center). We do not currently have a year-long project set up, but placemats for Meals on Wheels was suggested at the meeting. We will look into that opportunity and report back with more details if it is selected.
Current Charity Drive
We are currently in the middle of our third trimester drive of 2022 (September – December) supporting the Moores Cancer Center. We are asking for lap and throw-sized quilts (at least 50×60" or larger). Block kits have all been handed out for the group quilt project and were due back at the November meeting.
QuiltCon Community Outreach Challenge Project: Color Shift
Our quilt top is now complete and has been handed off to member Judy LaVine for quilting. We can't wait to share it with you all!
Donation Update!
Kristyn was able to make a recent donation of 38 quilts to Ronald McDonald House, bringing our year total to 83 so far!! And 15 quilts were also recently donated to JIT!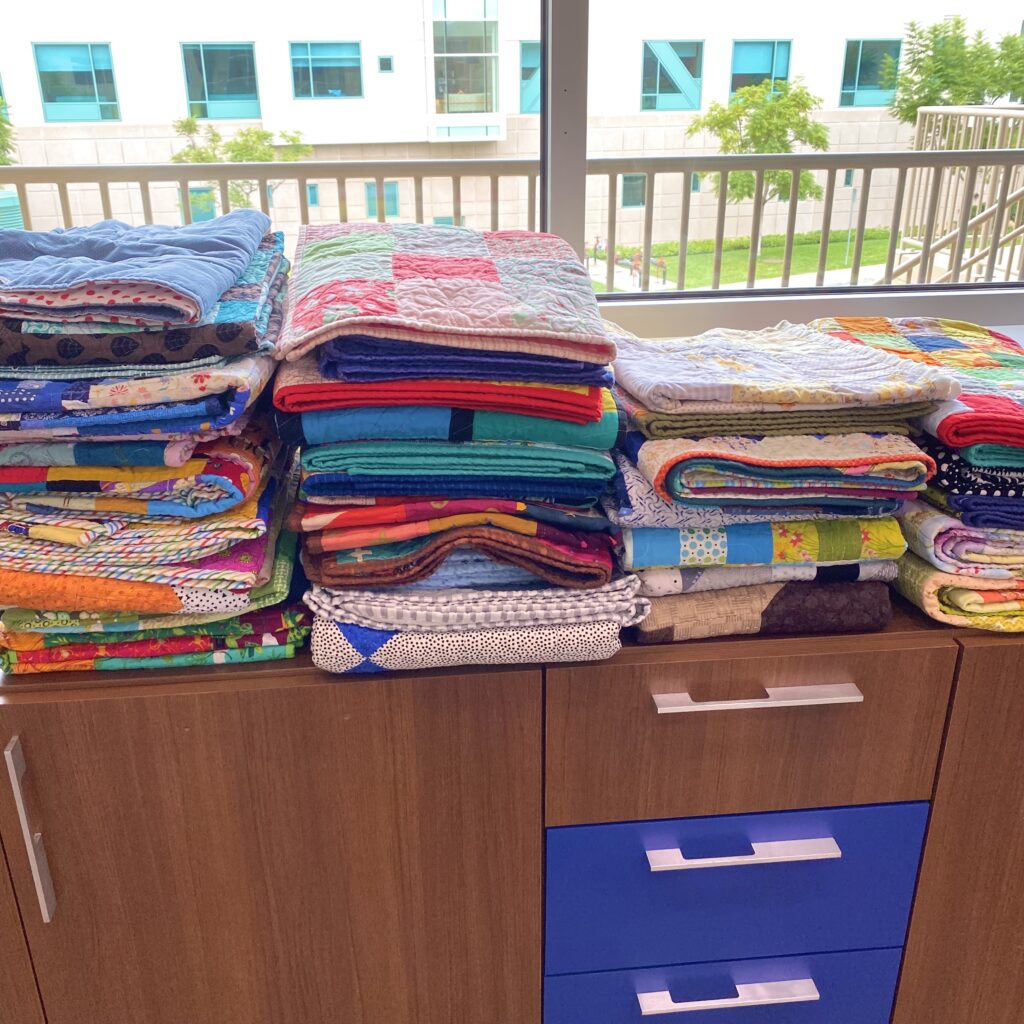 Year-long Women's Resource Center Project
Speaking of donations, it was turn-in day for our year-long project supporting the Women's Resource Center. The call was put out for 33 bed or large size throw quilts to cover all 33 beds of the center's emergency shelter. At the start of the meeting 32 quilts had already been turned in and show and tell revealed a parade of many more finished quilts, including the third SDMQG team quilt and the SDMQG group quilt (plus we know there are a few more out there)! Kristyn will provide the final count for this drive at the holiday party, but you guys have been amazing!! We cannot thank everyone enough who participated in this drive in all capacities. We could not have achieved this without you!
If you still need to turn in a quilt, please contact Kristyn ASAP to make arrangements as we're planning to make the donation soon.
Tops Available for Quilting
The guild has a backlog of donated tops that are in need of quilters to turn them into finished quilts. Again, quilting does not need to be fancy and this is a great way to practice free motion quilting or getting used to a new long arm. Quilt tops of all sizes are available and we can provide batting, backing fabric, and/or binding fabric upon request. If you would like to help, please email the sdmqgcharity gmail or talk to Kristyn at a meeting.
Opportunity Quilt
As in prior years, we are raising money for Feeding San Diego by selling tickets to bring home our 2022 Quiltcon Community Outreach Challenge quilt: Big Bay Boom (Fail). An email was sent out to all members with details on how to buy tickets. Please share this with your family and friends or anyone you think might be interested in supporting this fundraiser. Tickets are $10 each and the winning ticket will be selected at the holiday party on December 4th. You do not need to be present to win.
Keep tagging your charity makes (in-progress or finished objects) with #sdmqgcharity on Instagram so everyone can see your contribution!
---
QuiltCon 2023
The final day to register for your free QuiltCon show pass is November 30th. QuiltCon is being held in Atlanta, GA on February 23-26, 2023. All members can go to the show for free, but you need to register by this date or you will need to pay the daily rate to enter. Additionally, Kristyn (who is the QuiltCon volunteer manager) gave us some information about the volunteer opportunities available to all. Shifts are as little as 2 hours, but you get some big perks if you can be a Super Volunteer (16 hours over the course of the entire event). Sign up here!
Scrap Swap!!
Oh boy did we have a great turn out for the scrap swap! So much great stuff and all of the leftovers went to our local area Girl Scouts and our cat bed project.
---
Sew and Tell
November's Sew and Tell had a theme of cleaning out and turning in! A couple spotlight projects included:
The third SDMQG team WRC quilt:
Our SDMQG group WRC quilt:
And Jill's amazing paper pieced eye-spy quilt:
---
Coming Guild Events
Finally, here are some dates and events to remember:
Next Sew-In: Sunday, November 27th from 11-4 at Quilt in a Day – No sign-ups required!
Holiday Party: Sunday, December 4th at 11:30am at the Alta Vista Botanical Gardens, lunch will be provided. RSVP by 11/30!
Special December Sew-In: Sunday, December 11th from 11-4 at Quilt in a Day – No sign-ups required!
Next Meeting: Sunday, January 8th at 12:00 pm at Quilt in a Day (with Zoom viewing option). Stay after the meeting for sew-in time. No sign-ups required. 
---
Written By: Jen Collins
Posted By: Kristyn Jansen