Oh wow! Our January meeting was FULL of good quilty inspiration! The board decided to pivot back to Zoom due to the latest changes in the pandemic. The last thing we wanted was to start everyone's year off as a super spreader event! So we met on Zoom on Sunday, January 9th. For anyone who wasn't able to join us, below is a summary of what we covered.
2022 Membership
Registration for 2022 membership in the San Diego Modern Quilt Guild is live and a link to the registration page was emailed to all existing members with the January newsletter. You can also access that link by clicking here. Dues are due as soon as possible but no later than the end of February. If we haven't heard from you in February, you will likely get a call from Hadley to make sure your membership doesn't lapse if your intention is to renew. If your circumstances have changed and you already know you won't be renewing your membership, please send us an email (at the sdmqgboard gmail) so we can update our records.
Dues will continue to be $50 for the year. Those dues go in-part to the Modern Quilt Guild and get you access to all of the membership resources including discounted admission to QuiltCon classes and lectures as well as webinars, patterns and other quilting resources. The other portion of your dues remain with us. We use those funds to pay for programming, activities, raffle prizes, charity supplies and more!
---
Our 2022 Board
In case you missed it, our shiny new 2022 board is comprised of:
President: Nancy Littlefield
VP of Operations: Hadley Mendoza Miklos
VP of Activities: Janine Fulkerson
Secretary: Jen Collins
Treasurer: Kristyn Jansen
(And Charity Coordinator)
---
QuiltCon Updates
We wanted to make sure everyone read the email that came from the MQG on Jan 3, 2022 related to safety protocols that will be in place due to the pandemic. Key information is:
QuiltCon is happening, but with increased protocols.
Workshop attendees will be required to show proof of vaccination or negative PCR test results, taken within 72 hours of workshop date/time. Check email for link to upload your vaccination card before going to Phoenix
This year only, cancellations until January 21st for 35% refund. Check email for the link.
NOTE: for a fee, you can transfer your workshop to another member. Refer to QuiltCon guidelines for more info.
General safety protocols are in place for the whole venue, but only the workshops require proof of vaccine.
QuiltCon will continue to be an ongoing conversation through the February meeting. For those going to Phoenix, we will be arranging a get together one night during the show. More details to come.
---
Activities
1st Quarter Challenge: Increased Learning
Between now and March, challenge yourself to learn or try something new. It can be anything that adds to your quilting journey that you can share with the group:
Something you learned in class
New color patterns
Read an article or view an instructional video
Challenge yourself to try something you have been avoiding
Whether you find something on your own or while at QuiltCon, bring your new found knowledge/project and share it in March. Participants are eligible for prizes.
Monthly Member Spotlight
We would like to feature YOU at a future meeting! Whether you are a new quilter or an experienced quilter we all have our story to tell. Share your quilting journey so we can get to know you better.
All presentation styles can be accommodated- from free form with show and tell to a powerpoint presentation with pictures and anywhere in between. Nervous to do it alone- pick a friend to present with you. And yes your pet pictures are welcome 🙂 Want more info or to sign up, please email Janine at the sdmqgboard gmail.
Speaking of Member Spotlight, our new President, Nancy was our first presentation for 2022. Nancy dazzled us with her amazing quilting history. She shared so many beautifully inspiring pictures, projects and tips. A few of her gorgeous quilts are included below.
---
Charity
Current Charity Drive
For the first trimester of 2022 (January – April) we are supporting the Ronald McDonald House. Kristyn gave us the great news that we were able to donate more than 60 quilts to Ronald McDonald House as part of our 2021 drive.
To jump start our 2022 drive, she gave us a preview of this trimester's group quilt block kits. Using some cute Elizabeth Hartman fabrics that were donated, we will be making these super fast Slash and Dash blocks. These will be alternated to make a pinwheel design.
Block kits can be picked up in person at the January sew-in on the 23rd (even if you will not be attending the sew-in) OR please email Kristyn at the sdmqgcharity gmail to make other arrangements. The completed blocks are due back by the March meeting.
Year-long Special Project: Women's Resource Center
We will be holding a year-long quilt drive to support the Women's Resource Center's emergency shelter. The Women's Resource Center helps to serve women and children who have been victims of domestic abuse and/or sexual assault. Our goal is to provide quilts for all of the 33 beds in the shelter. We are asking for twin sized or large throw quilts in the color scheme below so that they will coordinate at the facility.
Details of the project have been emailed out to members and are in a blog post, but this long-term project is a great way to meet other guild members by joining a team! If you would like our help getting matched up to a group, please complete the form here.
Finally, have a quilt that doesn't fit with this trimester's drive? No worries! All of your beautiful and generous guilt donations are always welcome. Any charity questions or requests for supplies can be sent to Kristyn at [email protected]
And keep tagging your charity makes (in-progress or finished objects) with #sdmqgcharity on Instagram so everyone can see your contribution!
---
Sew and Tell
You guys have been busy and knocked it out of the park with your amazing quilts and projects! A few highlights are included below.
Chris B. showed off her completed Violet Craft Wolf quilt that she gifted to her wolf-loving daughter: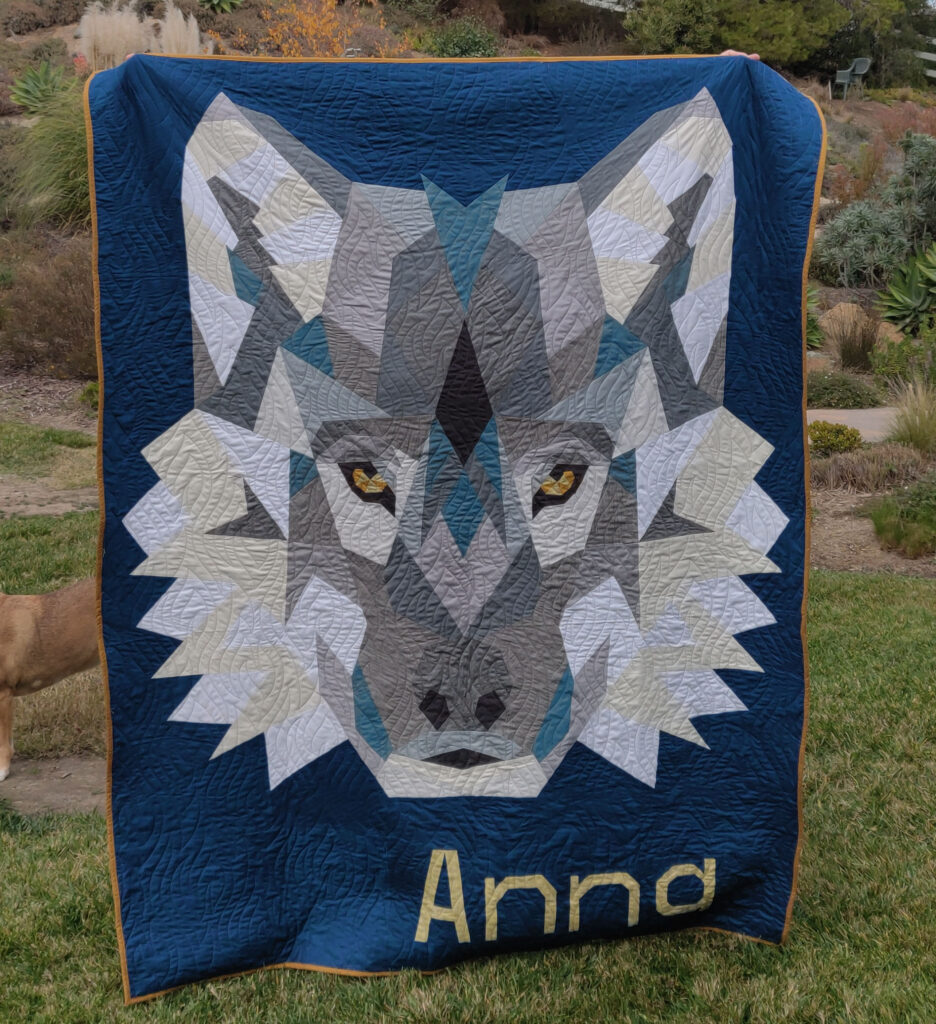 Dori C. showed off her completed Finger Paints quilt that she started during the workshop we hosted with Laura Loewen in October last year.
And Meghan D. blew us away with her serendipitous masterpiece (Paws All Around by Mary Go Round Quilts).
Finally, Jen C. shared the completed group quilt that the guild made for the Riverside Chemo Lounge drive in 2020 (better late than never!!). 
---
Coming Guild Events
Finally, here are some dates and events to remember.
Next Sew-In: Sunday, January 23rd at 11:00 am at Quilt in a Day – watch for registration email
Next Meeting: Sunday, February 13th at 12:00 pm at Quilt in a Day. If anything changes and we end up back on Zoom for the February meeting, we will notify membership by email before the meeting.
QuiltCon:  February 16-20 in Phoenix, AZ
---
Written By: Jen Collins
Posted By: Kristyn Jansen