We had a wonderful September guild meeting, here's what happened in case you missed it!
It's time for board elections once again and we had nominations for each of our board positions. As of the end of the September meeting, here's what those nominations look like:
Janine Fulkerson – President
Candy Flory-Barnes – Treasurer
Dori Conboy – Secretary
VP Activities – Open
VP Operations – Open
New – Social Media Chair – assist Secretary with creating social media postings (Instagram, Facebook) and monitoring those outlets/answering questions
If you're interested in filling one of the open positions or have more questions about what those positions may entail, send the board an email at [email protected].
Holiday Party Sunday, December 3rd – more specific information coming soon via email to the membership. Partners for the exchange will be sent the week after the meeting, so check your email if you signed up to be part of this activity.
Wrapped up third quarter Americana challenge – many projects inspired with red, white, blue and star motifs. Melodee shared this table runner she made among a group of projects she created for this challenge.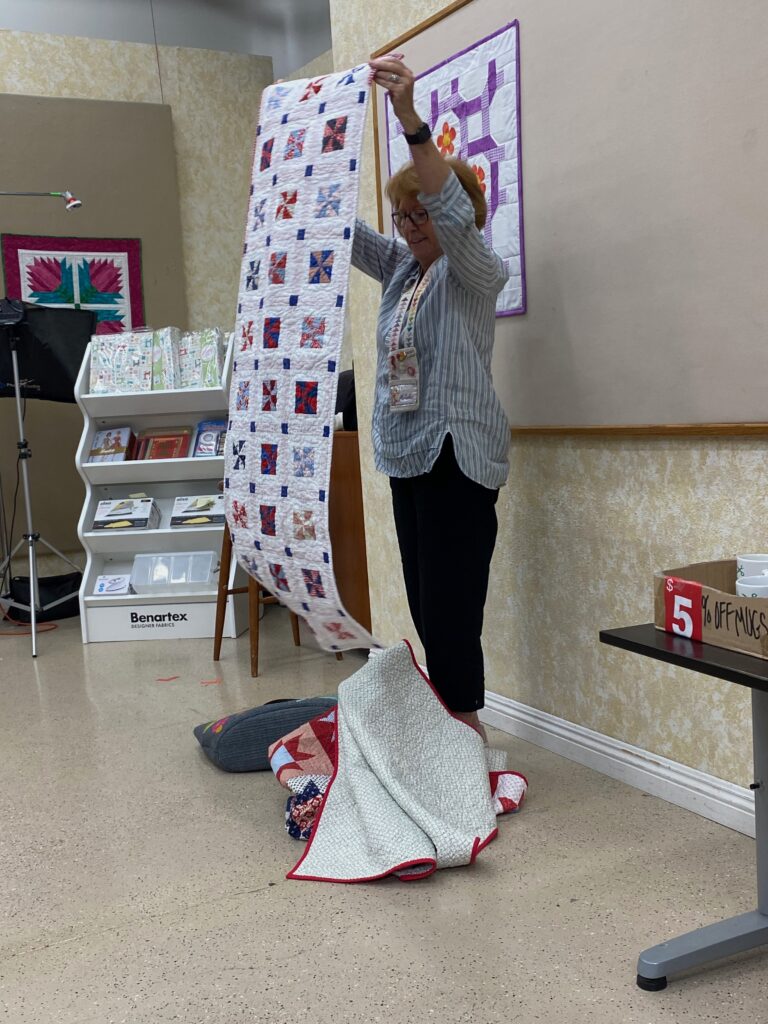 Suzanne with inspiration from Gee's Bend.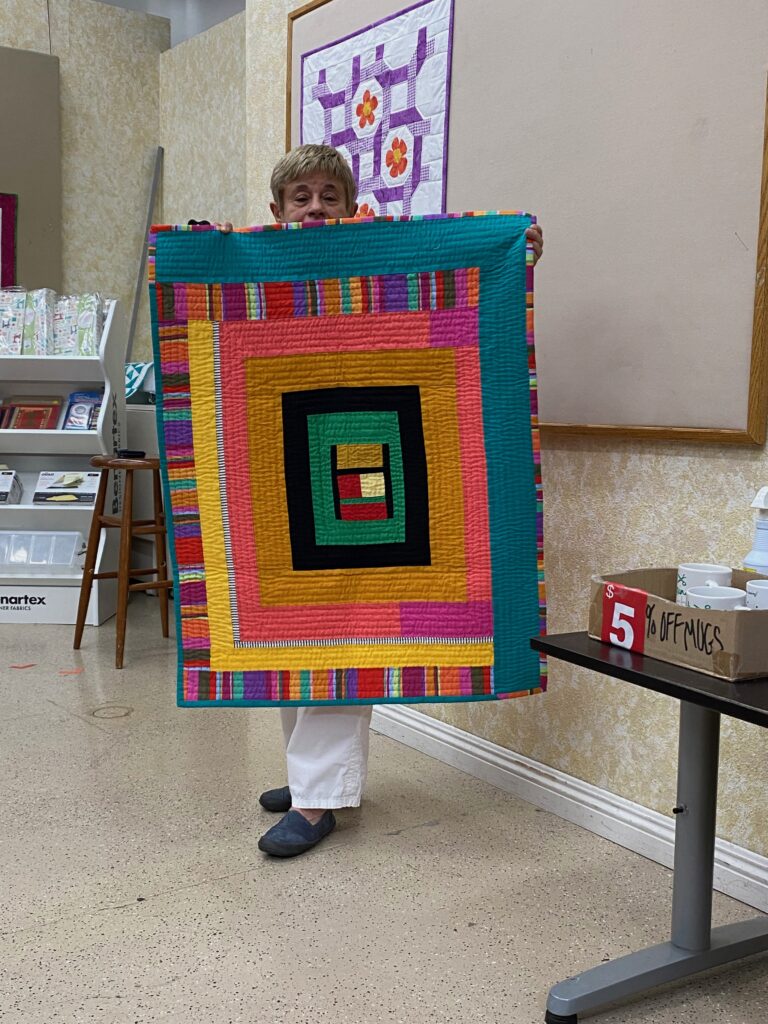 There will not be a challenge for the 4th quarter.
---
Charity
Third Trimester (September – December) focus on Moores Chemo Center at UCSD. We will be accepting donations of lap and throw sized quilts for those individuals receiving treatment at the center.
We are looking to hold our annual charity planning meeting sometime before the November guild meeting. The meeting is open to any member who wishes to take part in the planning of our upcoming year. If you're interested in taking part, please let our charity coordinator Kristyn know by sending an email or talking to her at a meeting.
Members – please check your email for a third trimester update email from our Charity Outreach Coordinator Kristyn for all of the details and updates on our current projects. If you didn't receive that email, please let Kristyn know by sending an email to [email protected].
---
Sew and Tell
Here's a few of the wonderful projects that were shared at this month's sew and tell: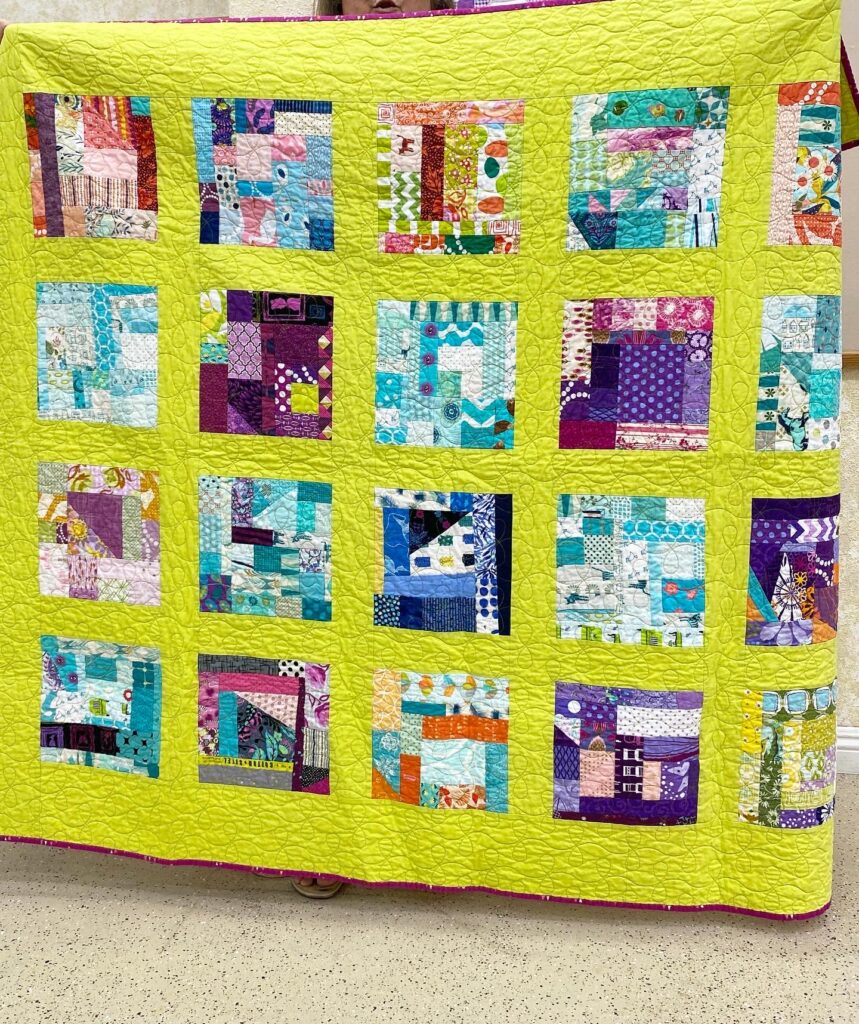 Pam made this bright quilt from scrappy slab blocks.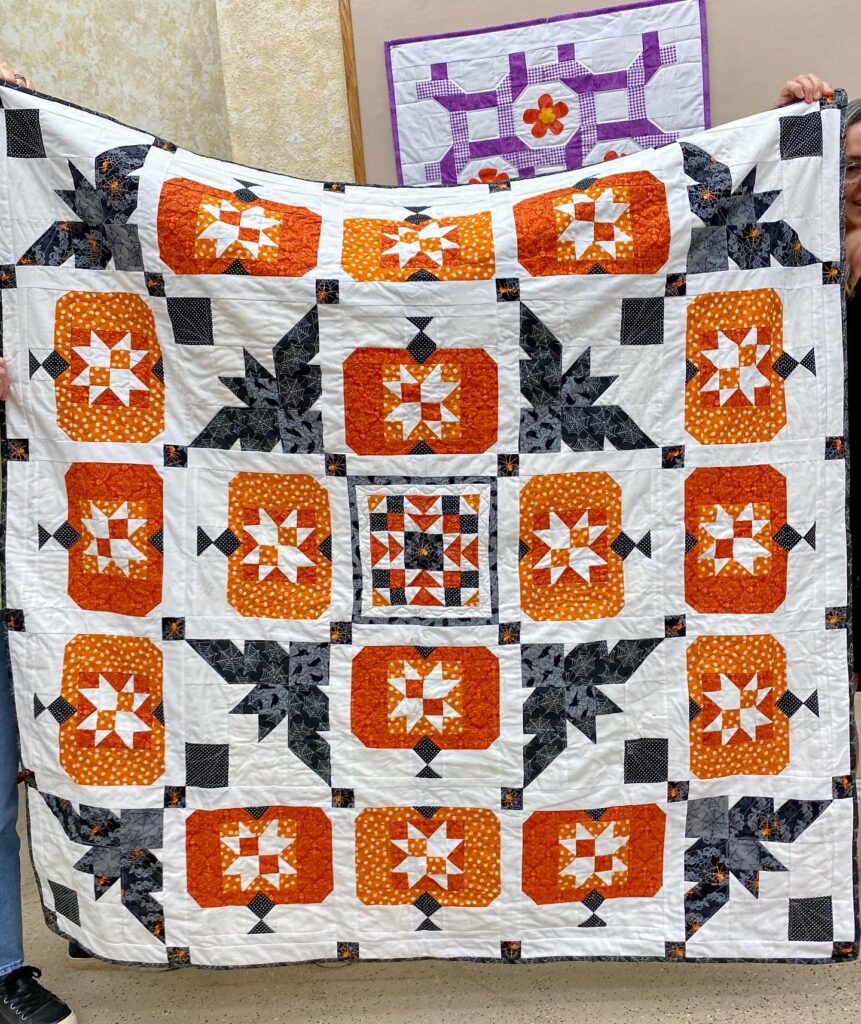 Amy shared this Halloween quilt.
---
QuiltCon 2024
If you're still thinking about going to QuiltCon, don't forget to register by November 30th to get your free 4 day show pass. Check out the QuiltCon site for more information about registering and the event itself.
Volunteering is a great way to meet other attendees and to get a behind the scenes look at the event. To sign up or get more information about volunteering, check out the QuiltCon Volunteer page.
---
Upcoming Events:
Next meeting and Scrap Swap – Sunday, October 8th at 11:30am
Sew-in Sunday, October 22nd 11:00am – 3:45pm
November Meeting – Sunday, November 12th at 11:30 am