If you didn't spring forward and missed our March meeting, here's what you missed!
We took a few moments to discuss what we liked about this year's virtual QuiltCon Together and the variety of opportunities that the virtual format offered. We appreciated the hard work that the Modern Quilt Guild mothership put into pivoting from an in-person event to a virtual one. It took a lot of work behind the scenes and we are so thankful we still had an amazing event this year despite the pandemic. Also, if you didn't already see it, be sure to check out your beautiful work in our finished Community Outreach Challenge quilt! Kristyn wrote up a great blog post here.
National Quilting Month
Our celebration of National Quilting Month is going strong! Throughout March, be sure to post on Instagram about the things that have inspired you from Quiltcon Together (including classes, lectures, gallery quilts, new techniques or products, or social media posts). Hint – you didn't have to attend the event to be inspired by it! All entries with the #SDMQGcelebratesNQM will earn you a chance for prizes during the April meeting!
---
Membership Pins
Hadley reminded everyone of the two membership pins you get when you become a member.
Please email sdmqgboard@gmail.com if you have any questions or haven't received your pins.
We also currently have available for purchase these cute SDMQG spirit pins for $6/each or $10/both.
Please email sdmqgboard@gmail.com if you would like to purchase.
---
Postcard Swap
The postcard swap wrapped up and we had a chance to see amazing examples of the happy mail that were delivered to the members who participated. Including, this super cheerful postcard made by Pam S.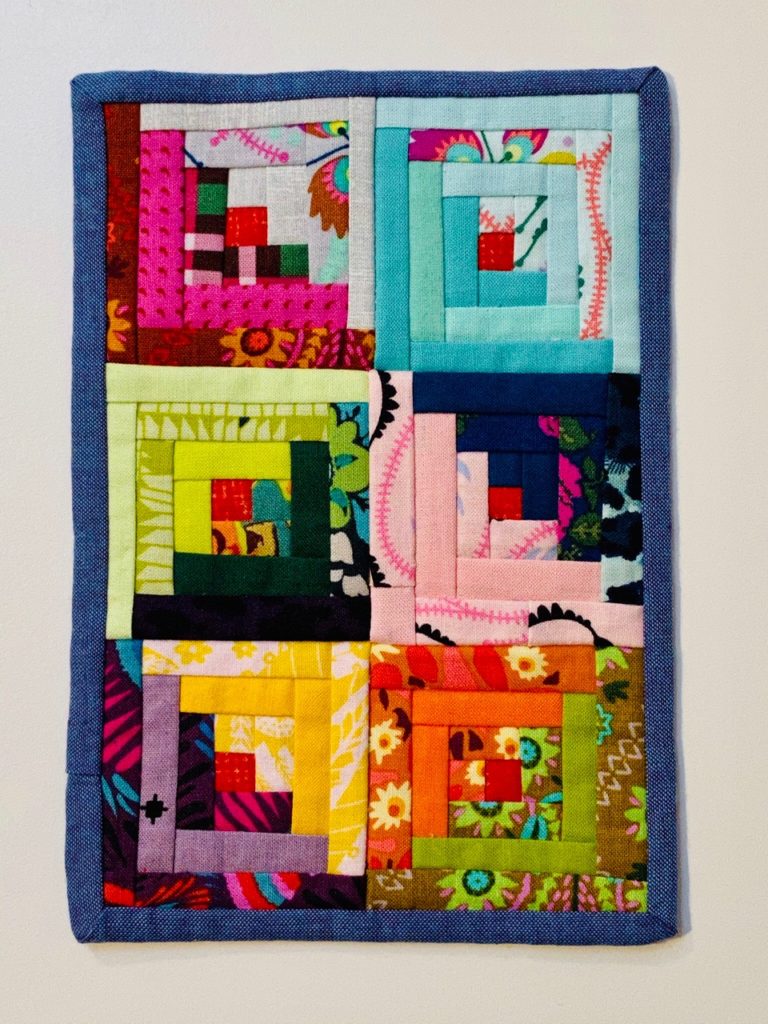 And this one made by Kenza C.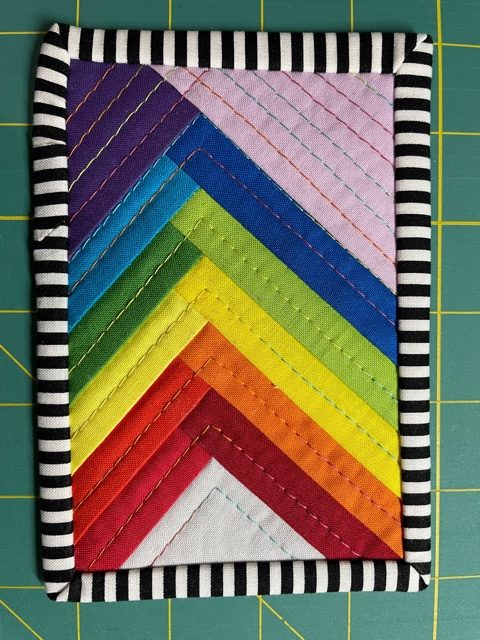 ---
A Little Bit of Math
Colleen gave us a great overview about how to modify the size of a quilt block by breaking it down to its components and how to run the basic calculations. Watch the blog for a separate post with the information from her presentation!
---
Charity
This trimester (January – April) we are supporting the Ronald McDonald House. All of the blocks have been returned and are now in the process of being sewn together into quilt tops. We always need help at this stage of the group quilt process, so if you are ever able to help finish up one of these quilts, be sure to let Kristyn know! As a reminder, you can read about our current group project here.
Members – Mark your calendars! On Saturday, April 17th at 11:00 we will be hosting a special socially distant/COVID-safe lawn meetup at Carrie's house to drop off and pick up charity supplies, plus FREE FABRIC! If you have a charity quilt in your possession, this is a great time to get it finished ahead of the meetup so you can turn it in. Details will be provided in the April Newsletter and meeting.
As a reminder we are also holding an ongoing potholder drive this year to support the Community Resource Center's Holiday Baskets program. This is a great time to use up orphan blocks! You can read more about this project, suggested materials and see Sue's pdf tutorial here.
Finally, have a quilt that doesn't fit with this trimester's drive? No worries! All of your beautiful and generous guilt donations are always welcome. Any charity questions or requests for supplies can be sent to Kristyn at sdmqgcharity@gmail.com
---
Sew and Tell
As always, we saw a beautiful range of projects from our members, including the following:
Sandi S. finished her beautiful Lizzy House Meadow quilt with a little help from her friends.
And Nancy B. has started quilting her own quilts! Look at this beautiful chevron quilt she made for a friend with more than 40 rows of echo quilting. Go Nancy!
And Kristi S. showed off this spectacular steampunk quilt for her son, a take on Gears by Man Sewing. That's one lucky kid!
Coming Virtual Events
Finally, here are some dates and events to remember. Check your email for the Zoom meeting links!
March Sew-in, March 28th from 11:00am to 1:00pm Pacific Time
Our next guild meeting, Sunday, April 11th at 11:00am Pacific Time
---
Written by: Jen Collins
Posted by: Kristyn Jansen