We had the pleasure of seeing so many of your beautiful faces on Valentine's Day for our February guild meeting. It was a lot of fun spending the morning with you! But if you missed it, this is what we covered…
Membership
First up! If you still need to renew your membership, now is the time to do it! Because we have to submit our records to the global guild, if you don't register and pay your dues by the end of February you will lose your MQG access. Hadley and Nancy will be reaching out by the end of the month to anyone missing either dues or registration since it is a two-step process. If you would like us to take you off of our contact list, let us know that as well. The membership renewal link is here.
QuiltCon Together 
QuiltCon Together kicked off February 18th and runs through February 22nd. You can see who may be taking the same classes as you on the spreadsheet that was sent with our February newsletter. We can't wait to hear what you all think of the classes, lectures and the virtual quilt show! We are hosting a virtual happy hour on Sunday, February 21st at 3:30pm on zoom. Members – Check your emails for the zoom link. And be sure to check out our contribution to the Community Outreach Challenge! We'll be sharing more about our quilt this week!
National Quilting Month
More details to come, but we hope you will help us celebrate National Quilting Month in March. We will be holding a special month-long Instagram challenge throughout March. The challenge will be focused on Quiltcon Together inspiration (including classes, lectures, gallery quilts, new techniques or products, or social media posts) and entries will earn you entries for prizes! Use the hashtag #SDMQGcelebratesNQM
Postcard Swap
As a way to keep us together while we have to stay apart, we are hosting a postcard swap! Registration for the swap must be completed by February 22nd so we can send you your partners mailing information. This will be a random swap – you don't need to make your card for any specific person, just make something that makes you happy and we'll send you a guild mate's address to send it to. Sign ups are here. Don't delay!
Sue also provided a few helpful tips to keep in mind:
Most common size is either 4" x 6" or 5" x 7"
Filler: Peltex, Pellon 72F, 2 sided fusible, felt, or USE WHAT YOU HAVE!
Piece the top. Best to make it a little bigger so you can square up to desired finished size.
Use an Applique pressing sheet if you use fusible Peltex. Place Peltex on an Applique pressing sheet. Iron top of Postcard in place. Turn over and iron Backing to the other side of Peltex.
Binding is cut at 2 ¼". Tuck one end inside the other.
Sew on with a ¼" seam allowance.
All About Zippers!
Sue also gave us a super informative overview all about the zipper! She put together a great handout about swapping out your zipper pulls that you can access here.
---
Charity
This trimester (January – April) we are supporting the Ronald McDonald House. Kristyn put together another great group block kit (which you can read about here). All the kits have now been handed out and are due back to Kristyn by the March meeting. We are also accepting all sizes of quilts for this trimester's drive. These quilts are intended for children of all ages.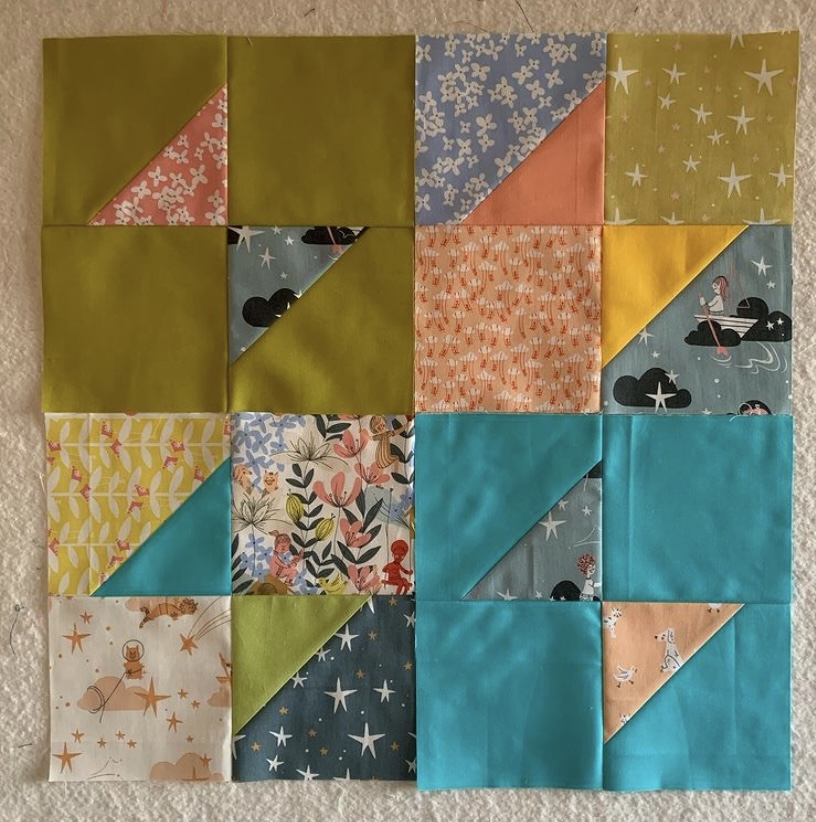 As a reminder we are also holding an ongoing potholder drive this year to support the Community Resource Center's Holiday Baskets program. This is a great time to use up orphan blocks! You can read more about this project, suggested materials and see Sue's pdf tutorial here.
Finally, have a quilt that doesn't fit with this trimester's drive? No worries! All of your beautiful and generous guilt donations are always welcome. Any charity questions or requests for supplies can be sent to Kristyn at sdmqgcharity@gmail.com
---
Sew and Tell
As always, we saw a beautiful range of projects from our members, including the following:
Angela D. has been on a finishing streak! Her Liberty quilt was a stunner.
We also had some great scrap quilting ideas, including this one from Stacey S.
And this leaders and enders project by Lauren M:
Susan K also shared her 2019 UFO swap finish. She picked up a set of orphan blocks from another member and turned them into this super modern finish!
---
Breakout Rooms
We wrapped up the meeting with a couple rounds of breakout sessions where we had the chance to chat in small groups. We discussed our plans for Quiltcon Together as well as discussed some of our favorite quilting books. Some of the books discussed in one of the breakout rooms included:
Quilt-opedia by Laura Jane Taylor
The Improv Handbook for Modern Quilters by Sherri Lynn Wood
Inheritance: Minimal Quilts for the Modern Home by Riane Menardi Morrison
Brave New Quilts by Kathreen Ricketson
Wise Craft Quilts by Blair Stocker
Courthouse Steps by Quilt in a Day
---
Coming Virtual Events
Finally, here are some dates and events to remember. Check your email for the Zoom meeting links!
QuiltCon Together Happy Hour, February 21st from 3:30pm to 5:00pm
February Sew-in, February 28th from 11:00am to 1:00pm
Our next guild meeting, March 14th at 11:00am 
---
Written By: Jen Collins
Posted By: Kristyn Jansen